robert jones beauty academy:
gold membership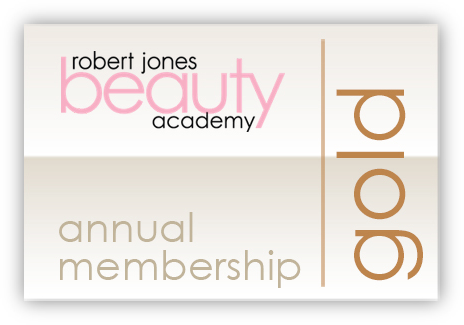 the premier gold membership is packed full of everything beauty. the gold membership is for those who want more exposure than the basic membership, but aren't quite wanting to become a full time makeup artist. perfect for consultants, those who just want to KNOW everything about makeup, or those who think they want to go PRO, but want to give it a try first.
full access to step-by-step, high definition course videos for the first two course levels
if you elect to invest in the the academy at the premier gold level, you will have instant access to the apprentice level and the master class in the academy. these course videos start at a beginner level and go all the way to advanced techniques. you can go at your own pace and on your own time schedule with NO limitations to how often or when you access these amazing makeup tutorial videos!
downloadable, lesson-by-lesson course materials
download course materials that apply to each course video for your own robert jones beauty academy course manual. perfect for quick refreshers or on-the-go needed reference!
earn certificate(s) of completion!
with the gold level, you can earn a certificate of completion for the first two course levels (the apprentice level and the master class). these certificates are signed by robert and are mailed directly to you, even if you live outside the united states.
if you sign up for the gold membership level you are not required to receive your certificates…it is just an option if you choose to earn them! click here to read more about the certificates and what they can do for you.
access to the member's only forum and member's only facebook group
talk with others about what you are learning, ask questions, and gain valuable insight, help, and encouragement from others who are on the same path you are on!
regularly released bonus videos
behind-the-scenes bonus video from robert and the academy staff members to keep you up-to-date and in-the-know on the hottest trends and info you need to know. bonus videos will be released to members first before they are released anywhere else!
20% off one product in our "gotta' have it shop" per month!
receive 20% off one product per month in our gotta have it shop! every 30 days your discount simply resets and is ready for you to use again and again!
---
special price offer!
become a gold vip member and save an extra $50 for a yearly membership – that's two months for FREE at the regular monthly price!
---

we are so certain you will love your experience in the academy, we offer a 30-day money-back guarantee! try it out for a 30 days and if you don't like it, we'll give you all your money back – no questions asked!